← Back to Interviews
Sounds of the Shoreline: Kim Kitchen and herstory Kim and I met at the shoreline. We sat together on a bench and talked about art, life, and community. Meeting at the shore was something that Kim requested, and it was such an impactful choice that guided our conversation. The shore holds great significance to Kim and has become an important part of her practice. Kim was so clearly at peace by the shoreline, so clearly inspired by it as well. Kim said to me, "At the shoreline, everything changes. It's coming and going, becoming, being. It's a place of transition." In telling me this, it became clear that the shoreline was the perfect spot for Kim to speak about her creative journey and share her experiences of coming and going, becoming and being.
Kim was eager to share with me, and I, eager to listen. During our conversation, I felt compelled to speak loudly and speak over the shore's sounds so that my voice would not be drowned out by the waves splashing up onto the shore or the wind whistling around us. But Kim did not speak loudly; she embraced the sounds of the shoreline and spoke with them. My experience being at the shore with Kim helped me to better understand everything she spoke about on a deeper level as Kim's story blended with the sound around us.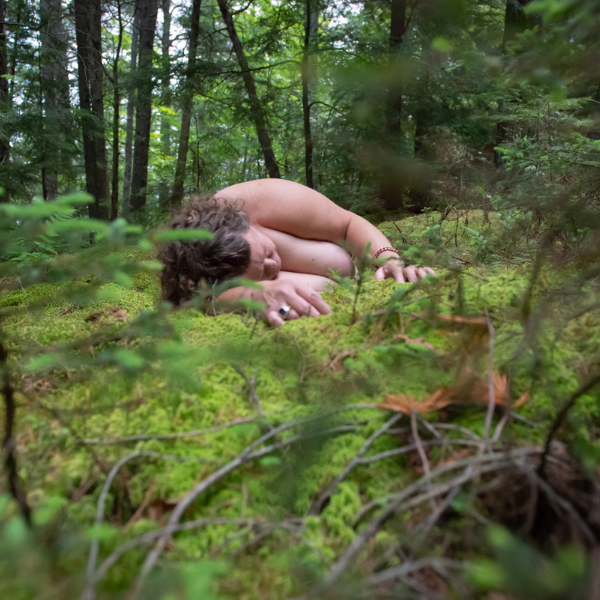 Throughout her career, Kim Kitchen has developed an extensive body of work. She has thoughtfully created projects that hold such meaning and power to her and her audience. Art is Kim's fire. She grew up always feeling like she was an artist. From a young age, creativity was second nature. And even though creativity came so naturally to Kim, she didn't necessarily always know what it meant to be an artist. For a long time, Kim was unaware of all the art world's diverse possibilities. Pursuing creativity and working as a professional artist seemed unrealistic because no one ever assured her that there were jobs available to artists. And as Kim states, this is largely because, There's just a real lack of knowledge or understanding of what artists are doing every day in this country… Many people close to me, who are not artists and have never had any up-close experiences with art, have said to me that they had no idea about the everyday workings, the research, the inventory, the archiving, and the development of work. People have no idea that I wake up every day and do this.
But Kim noted that artists are troubleshooters and "in everyday living, those skills are what you'd want your children to learn." Kim further explains, "Art has never been difficult for me. It is something that I do that I feel skilled at, and I just keep going." And so, despite never being shown what the life of an artist could look like, Kim carried on, trusting in her passion and skills. In Kim's work, the process is so important. There are dimensions to her work because of the time, preparation, observation, and research that she puts into everything. I feel like my work is always ceremonial. Very ritualistic. There are so many pieces - things that you don't see me do. You might see the end result in painting or in sculpture, but there have been so many things going on through it that were just as meaningful that took me to that spot. Even if the ritualistic nature of Kim's work isn't always perceived by her viewers, there is thoroughness and authenticity embedded in the details of each project.
Kim sees the world through her creative lens and ignites meaningful conversations by staying connected to issues of social justice, inequity, equity, and herstory. Feminism, women artists, female experiences, and herstory were prevalent topics during our discussion. Kim emphasized that herstory can not be separated from her practice. Everything that Kim does is connected to it. She explains, "being a feminist deep in my core is always in my work. It's just how I think." As a feminist, Kim desires to use her practice as a platform for storytelling. She explains, "We have so much work to do. And so much to learn still… I've been thinking about Herstory and incorporating it into my work for so long; I'm really trying to share our herstory and knowledge with people around the planet." This is an important endeavour that Kim has tasked herself with as she believes sharing herstory and storytelling "has the ability to free us."
Herstory and feminism inform how Kim wakes up every day and inspires her to make sense of her legacy through art. In her practice, Kim's feminist roots combine eco-feminist perspectives with the 1960s and 70s feminist collaborations and their emphasis on community. Kim spoke of her admiration for women artists, including Judy Chicago, Kiki Smith, and Ana Mendieta. For Kim, it's not just about the body of work that these artists created that helped define the feminist art movement of the late twentieth century. Instead, it is about the way they worked. Kim explained, "I always so admired Judy Chicago and the way she created The Dinner Party - it was such a collaborative effort."
The collaborative, community-oriented mindset of second-wave feminist artists is something that Kim has been developing in her own practice. Today, Kim has a network of artists in this community. Having experienced a life-altering diagnosis of Rheumatoid Disease, Kim's creative process had to shift after a period of being completely stalled. Kim explains, "now, as a disabled artist, I work with a team. I need people who are mobile. So on this team, there are seven of us: audio, videographer, photographer, curator, my PSW, and project manager." This collaborative effort is a powerful tool that has helped her grow as an artist. Kim continues, " I learn from them - we learn from each other." Kim calls this network of support and collaboration her medicine. She explains, "In my life as able-bodied, I lived on the land as guardian and farmer, a feminist and social activist, my art practice inspired by body-land relations." Her new work is a continuation of this. But now, in this most recent creative endeavor, Kim finds herself reconvening at the shoreline with assistance from her team of local artists.
In this project, To Re-convene // To Shoreline, which explores soundscapes, videography, photography, and spoken word, Kim considers relationships and the importance of collaboration. In her artist statement for this project, she writes, "This body of work underlines the importance of the interdependence of all that is living and dying in relied states of alliance. A union of mutual benefit, of collaboration and harmony." Furthermore, in this emerging body of work, Kim reveals her conviction and connection to the land, "an honouring of admiration and respect." To Re-convene // To Shoreline brings Kim and her team to Lake Nipissing's south shores. As a guest and a settler of Nipissing First Nation, Kim feels grateful to live and work on this shore. Kim feels inspired by "The ancient old rock out on the south shore (that) holds bodies and bodies of DNA, of stories from long ago." This project has been something Kim has been inspired to pursue for a long time. It is a celebration of her lovelover for herstory, the earth, and the legacies of women artists who have not received the recognition and celebration they deserve. Within weeks of finally being presented with the opportunity to go to the South Shore of Lake Nipissing and create this work, Kim convened her team of artists, including videographer and photographers Vanessa Tignanelli and Liz Lott. Together, at the shoreline for four days and in collaboration with each other, this partnership has made Kim's creative dreams become a reality.
As for what's on the horizon for Kim, it's always one project at a time, and she takes things day by day. With a full year of work ahead of her, Kim feels incredibly grateful to be back on track with this current project after months of postponing during the COVID-19 pandemic. She continues to learn from the community of artists that she surrounds herself with and is looking forward to sharing more about her time at the shoreline where she reconvened.
Kim Kitchen is the Creative, Director & Producer of To Re-convene // To Shoreline and Liz Lott the Photographer with both Kim & Liz editing the photographs. Kim requires personal support to engage in the making of work. Her personal support person for this four day shoot to capture film and photography out on islands of the south shore of Lake Nipissing was Nichole Kitchen.